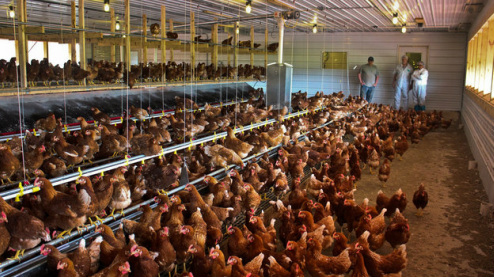 Free-range chickens lay eggs for Sauder's Quality Eggs in Pennsylvania.
Dan Charles/NPR

Know your farmer, know your food! When you spend that extra money at your grocery store for those "Free-Range" eggs, here's an example of where they come from! YES, the hens are not cooped up 9 to a 28" by 28" cage, so yes, this is free-range in that respect. And, "Organic" can still refer to eggs laid by those hens still housed in those cages, and it may or may not refer to eggs laid by these hens pictured above.
Want truthful, naturally produced, exceptionally healthy eggs? Look for pastured eggs from a farmer near you! Buy Local.
Hens managed through pasturing have far more space than those pictured above, and are able to eat the most natural diet for themselves. And, sorry everybody, chickens are not by nature "vegetarians". Slugs, bugs, worms and ticks are fair game for protein supply in a happy flock. Such food-stuffs combined with fresh air, sunshine and a clean bed every night provide the best basis for exceptionally healthy eggs. Why do our eggs have such a rich golden yolk? From eating fresh green grass, and corn.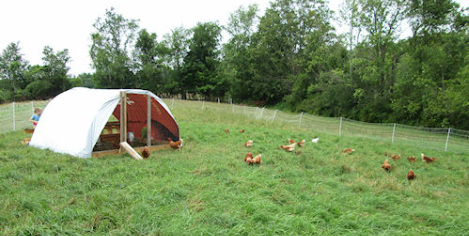 Helder~Herdwyck's happy hens, following the sheep in our planned pasture rotations. HHF 2013(C)