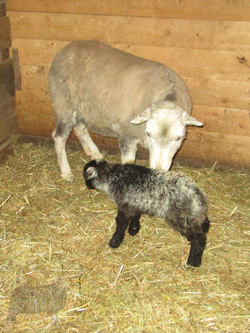 Here she is! All 10lbs of Helder~Herwyck's first Herdwick X lamb of 2014 bornin the U.S.! Born about 4 am this morning. We are taking suggestions for names which fit her, and start with "H". Can you help us? Email us your suggestions.
Later in the afternoon, Alysia brought forth a ewe and ram - both 7 lbs. And it looks like there will be more by tomorrow!
Nice, 50 degree temps outside today.