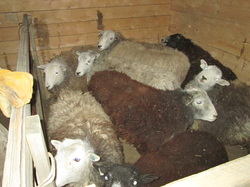 Shearing Day at Helder~Herdywck Farm was on March 23, 2014. Our nine ewes and one ram of varying Herdwick genetics, offered a variety of colors, patterns, types and textures of fleece.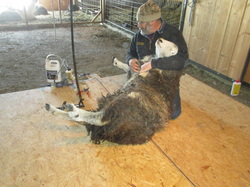 Here, Andy Rice prepares to shear Haylie. We prefer to do as much necessary management as possible at once, in order to minimize handling of the animals and reduce the amount of stress. We chose to shear prior to lambing to provide cleaner fleeces, cleaner lambing as well as ease in monitoring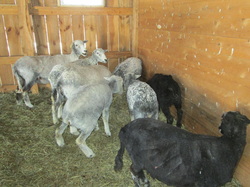 the ewes as lambing approaches without having to handle them unnecessarily.
Yes, it was still a bit cold, so we have kept the sheep in the barn at night and during colder days with plenty of hay to stoke their furnaces with. Again, this was an unusually long and cold winter, and when planning ahead for a lambing date and shearing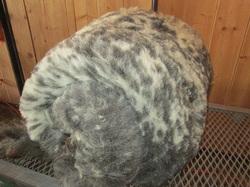 date, there's no way to tell what may happen. And the shearer must be scheduled in the fall for a date in the spring. Normally by mid March we are between 40 and 60 degrees during the day.
Here is Haylie's Hogget Fleece (her first shearing). It has all the unique attributes of a Herdwick Fleece, with a really cool pattern to boot!
Check back often, the lambs are due to start arriving April 10th! We'll keep you posted.