I thought I would share just a few of the activities we are involved in this time of year. My days start about 6 am, sometimes sooner, and end ...well, it's 11:30 pm as I finished writing this yesterday, and after 10 pm as I post it now. It's taken me several days to put this together. Sometimes I can hit the sack by 10 or 10:30. I try to do all my financial, sales, marketing, mailing, design and website/facebook updates, customer orders, phone calls and email follow up when I have time to myself, while little one is at school or asleep. But as you'll see below, I still have plenty of interruptions during those times. Regular household duties, child rearing, school activities, meetings, classes, 4-H, deliveries, feeding and watering, inventory, planning, etc are in addition. I have been getting more frequent orders for my fiber business this fall as well. Read on to see a bit of what we're up to this week and the next couple!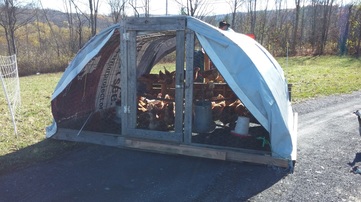 Despite actually holding off, compared to other years, with our first killing frost not hitting until into October, we are still caught almost by "surprise" with icy temps in mid prep for winter. The laying hens were out on pasture until this past Thursday, though I had provided further enclosure to their "RV" coop, it was getting cold for them. At left is a pic of us a couple weeks ago, making the last coop/fence move for the hens this season. Once placed in their new area, I installed an additional tarp across the front to prevent the wind-tunnell effect.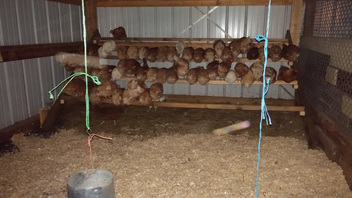 Here, to the right, are the hens their first evening in their new digs for the winter. There are a total of 58 here, I brought in from outdoors on Thursday evening, during the snowfall at 9 pm. For those who don't know, chickens are easiest to catch at night, as their eyesight isn't worth beans in the dark, and, they go to roost. So, I was able to pluck them off one perch, gave them a ride of about 18 at a time in a large box to the barn. Then, after chasing a visiting adolescent opossum out of the new coop (yikes!), I took them out of the box and plopped them on the new perches. The next day, we got the most eggs in 3 weeks from them! We have been short meeting our weekly orders, so we are pleased to see them producing better.
Now one of our many winter prep projects involving moving our livestock around and into winter quarters, will be to introduce the newest batch of 15 layers to the original flock. I placed colored leg bands on them (each batch gets a different color so we can track how old the hens are) on Wednesday, and then tonight, I moved them into the summer broiler coop inside the pen. This lets them meet each other without the risk of injury during initial pecking order tiffs. After a day or so, the coop comes out and they are all on their own. By nightfall, everyone will know their place and, so the next chapter begins.
Since we have not been able to stay on top of our growing number of egg customers, when our hen supplier called this week and asked if we were interested in more hens, we discussed, considered holistically and said yes. These hens are about 6 months old. They were purchased in April by a person who sells eggs at farmers' markets over the summer, and when the markets close for the winter, they dispose of them. Some people slaughter them. This person offered them for sale to bolster winter productions and growing markets for those like us. These hens have another year and a half of good production! We decided on 20, and this puts us as of today, at 93 hens. When I arrived this afternoon to pick them up, there were 4 eggs in the crates. While putting the newbies in their stall at home, one flew off the crate and dropped an egg when she landed in the shavings! These hens will stay in their own stall for 14 days. If all is well, they too, will be introduced into the rest of the flock.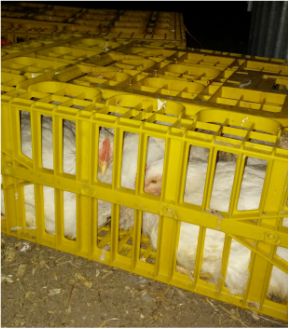 This week, the last of the broilers we raised go for processing. This involves a 2 hour round trip commute to the slaughter house in Stamford, NY. Once to drop off, and again a day later to pick up. Not many places around to get poultry processed. These places are mobbed, due to the demand for fresh, healthy poultry. Ray just got back from the drop off, driving through a snow storm to get home at 9:30. It's a different planet almost in Stamford. I will go Friday to pick up the birds, along with as much of them as we can use - hearts, livers, gizzards, feet, and necks.
We are sold out of birds for this season, but are taking orders for next spring. the birds to the left are our white cornish cross. We will be offering a Heritage variety next year that has far better flavor and tender, juicy breast meat. We know you'll love them! Visit our products page at our website for an order form.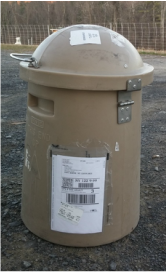 The sheep will stay on pasture until snow threatens to get deep enough to short out our fencing, and prevent them from digging for the nutritious grass underneath. But, we have time before worrying too much about them. The llamas are with them, and the ram won't be going in until the week after Thanksgiving this year. This is because everything points to another nasty winter running late into Spring. Lambs will be born a bit later, when it is getting warmer in April.
We are determining which pasture to move the ewes to next, and in the meantime, we are unfortunately feeding hay. But, there's only two of us, and we have multiple duties on and off the farm. As for breeding season, we hope to be increasing our Herdwick genetics with artificial insemination in early December. If we do this, there's quite a bit of handling that will have to start next week. To the right is the shipper containing the nitrogen tank in which likely the last of the Herdwick semen in the U.S. was shipped from the west coast to us. It is now stored at a dairy farm where I used to milk.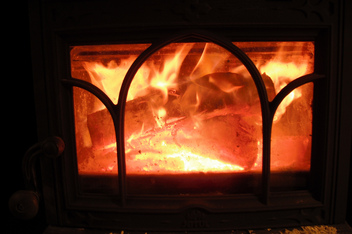 Two other HUGE projects are construction related. First, we have contracted someone to install our woodstove in December, finally! We are rearranging our living area in preparation of my hearth building project. I will be using found stone from our creekbed, fieldstone and remains of the stone wall that long ago toppled here on the farm. But, this has to be finished and in place by December 1st! Good thing I have nothing to do! Then we will need to move firewood chores higher on our list, too! Can't wait. Bring it on, Jack Frost! Sorry, but I won't be missing you, heating bills! We took some huge hits, between National Grid and our Propane provider of the time. (We have switched that one!)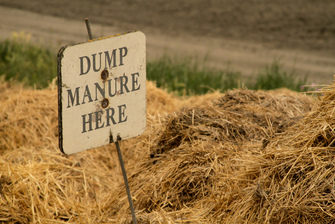 The second project is related to prepping for the animals for winter, in providing new winter quarters for the sheep. The flock is now too big for our original sheep shed. We are contracting to clear out the barn yard and installing new drainage, entailing a bulldozer and back hoe, add stone on top and Ray will then add yard fencing. He'll add a couple doors to the barn to open into the new barnyard.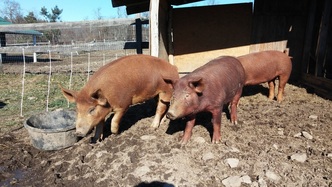 Betwixt and between construction projects, we will be sending at least a couple of the hogs to the abattoire by the end of the month. Two are larger than the other two, so we may grow the remainders for a couple weeks longer. This will help with freezer space while we get the first two delivered to their purchasers. They're going quickly, so order your fresh, pastured pork now!
Closing up the garden...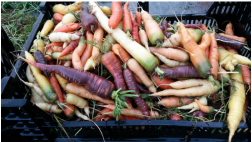 Thought I'd share a pic of our deliciously colorful and nutritious carrots. Here is about 1/2 of what we grew, which filled 7 one-gallon sized bags. I have yet to get the rest, and next the beets. All of these I store either fresh, freeze some and most I slice and dehydrate.
Finally, we need to clean out all the dead plants and turn some compost in, to prepare the garden for spring planting.