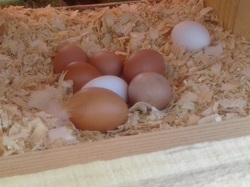 Just in time for all your holiday cookies, cakes and treats, our lovely hens have gone from 36 to 44 eggs per day two weeks ago to a whopping 60 early this week, and continue to produce in leaps and bounds. We gratefully received 74 cackleberries today. So, c'mon over and get your eggs! Save by picking up your eggs here at the farm. If you have special needs, please speak with us. Call us to arrange for your pick up. (518) 872-9081. And don't forget, we offer discounts for Veterans on our products! Through this weekend (12/4 through 12/8) it is buy one dozen get a second at 1/2 price! See our
Egg
page for details on the benefits on our farm fresh eggs. And our CSA page for delivery locations and CSA options. Sign up today for weekly or our new quarterly payment options!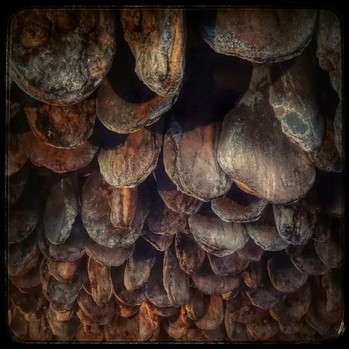 And, this week our Heritage Tamworth hogs were processed. I had expected to head south today to the smokehouse, but they are not finished just yet. So that will occur when it's time. We found a great, USDA smokehouse that offers several options for smoking - nitrate, low nitrate, and all natural, no nitrate processing for your hams and fresh, famous Tamworth bacon. MMMMmmmm. We will be posting pricing by cuts shortly once we work out the figures. In the meantime, we still offer whole ($4.50/lb) or 1/2 ($5.00/lb) hog purchases. Contact us right away to reserve your fresh pastured pork! The remaining two will be priced and sold by the cut as demand requests us to. Imagine combining our bacon with our delicious eggs!

Our daughter coined the phrase "It's pigalicious!"