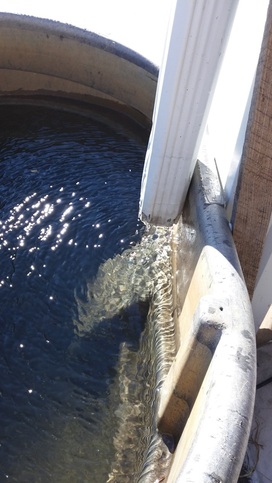 Thought I'd check in, since its been awhile, as I continue to be buried with work and more. I wanted to share that we continue to collect "rain" water even during winter. The picture to the left shows our heated water trough which is under the downspout on the barn. When the picture was taken, it was only about 23 degrees F, but very sunny with no wind. The dusting of snow on the roof was melting in the sun, and thus filling the trough. The heater keeps the water in the trough thawed so we can water the animals by scooping buckets in it. Occasionally, when it's too cold or windy for collecting, we still drag out the hose to fill the trough. On one day, however, in January, this trough over flowed from melting frost and snow!
On top of the production I'm supposed to continue working on, our house spent a good 22 days total in January being ill with the "morphed" flu - causing a wicked upper-respiratory infection that lasts about 8 days, and that's when you've had the flu vaccine! Dear Hubby's converted to bronchitis, and so lasted even longer. I was spared the brunt, but continued to have something lingering as a cough through February. So, during January, I added all feeding and other barn chores, customer service and orders, deliveries and processing to my regular home duties, record-keeping, paperwork, etc. etc. This took my frequent 14 to 16 hour days to 18 and sometimes longer.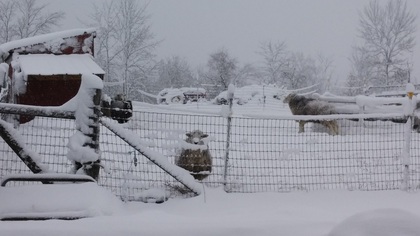 I set aside production such as washing and figuring out how to dye some yarns during winter for an upcoming class; designing patterns for rugs and kits for sale for upcoming shows in 2015. All part of my job. But a job I've dreamed of, and chose to do. Soon enough, my duties will entail outdoor tasks of rotational pasturing. Gotta "make rugs while the sun hides".
During February, while buried in snow that had accumulated since December, we were plunged into weeks of bitter, relentless cold. Had I chosen to live in Alaska, I'd be there. But I hadn't! -20F nights, with a few adding a windchill that dropped us to -40F, got the sheep a place in the barn. You don't know cold till you step out onto snow that squeaks like styrofoam, in winds that leach tears from your eyes so when you blink it feels they will freeze shut. But in the barn is warmth from the animals, and no wind. And they all are happy to see you.
It's very difficult for people who have never run a business themselves to understand what is required to do so. Let alone when you are first building one up, on your own. Add to this the art of Agriculture with Mother Nature playing God or Gremlin at her whim, and growing livestock, not vegetables. Our season is year-round, not just Spring through Fall with a planning period during winter. Its also 7 days a week, not a weekday desk job with paid leave and meeting schedules to opt in or out of. I have little and more often no, control over my schedule. Our animals are our livelihood. I'm not complaining. I love my job, and being attached to the land. It's in my bones. I'm the 4th generation, at least, in my family to farm, and I'm damn proud of it. Thank God for now, we live in a fairly free country, where we can for the most part, still choose our vocation.