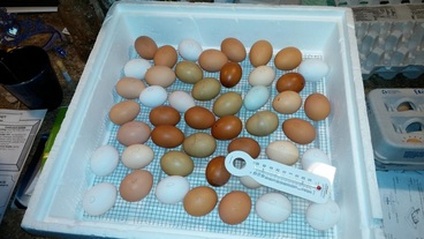 Our incubator project has continued, and today is THE DAY! Any time, hopefully, we should begin to see some "pips", the term for the tiny cracks the chicks will make in the egg with the only tooth a chicken ever has - the egg tooth.
We have had our challenges during these 21 days! Incubator issues in the beginning saw us switching to a new unit only to find the temperature control untrustworthy. Thinking it was THAT unit, we exchanged for another, shuffled the eggs again only to find the temp on the digital screen at 100.3, but the thermometer on the eggs at 92. Go figure. We ended up with the 4-H unit going strong and finally settled at the right temp, steady. If the eggs are incubated at a lower temp, development will be delayed, higher temp, sped up. Keep this in mind as I continue.
The next challenge came when this past Saturday, we lost power for an hour and a half. With the incubator and 3 brooder units in use! Luckily all chicks made it without a hitch. The unborn ones were still wiggling when I checked that night. I have noticed that it seems not all the chicks are at the same point in development, so we will leave the unit running for a couple days, and then water-candle the remaining eggs for signs of movement. More on that later.
Hopefully the final incubation challenge came when early this morning, about 1:30 am, we experienced our first thunderstorm of the season! This is usually not a good thing this late in incubation, because the changes in barometric pressure in such a storm can affect the air cell in the egg, the chick's source of oxygen during hatching. So we shall see. At least up until last night, we have maintained 43 eggs with embryos out of the original 48 placed in the incubator.
I will keep you updated on the hatch over the next couple days. Wish us luck!