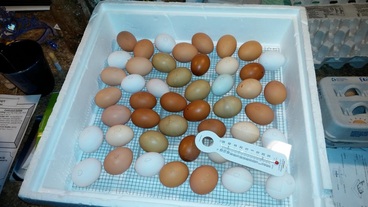 We borrowed a poultry incubator from the local 4-H office for our daughter to do a 4-H project of hatching chicks. I'm a nervous ninny, because not only were we able to find a local source for rare-breed chicken eggs, but, I haven't done this since I was in 4-H myself! Starting over, the borrowed incubator appeared to work wonderfully during the test warm up. We put the eggs in last week, and I've been religiously turning them 3 times per day (If we get into a lot of hatching, we will purchase an upgrade with the auto-egg turner in it!!). At one point, it appeared the temp spiked and I got scared we'd lose all the eggs, so purchased the "Little Giant" version on sale at Tractor Supply. Got it going and moved the eggs into it the next day. I went to turn them, and they felt cool. Long story short, we returned if for another, letting the eggs be baby sat by the 4-H unit, which seemed to be working just fine again. Grrr. I like the new one though, because the mesh on which you set the eggs is a tad larger and the eggs don't tend to roll around whilst the cat and child romp in the other room!
Today is day #5, so at the last turning of the day, I borrowed hubby's flashlight to see if we were having any luck. Below is a pic of what I found! In several of the eggs! Yahoo! The dark spot is the embryo and you can see a web of small veins spreading out away from it. These veins draw oxygen and moisture into the egg through the shell. The embryo is attached to the yoke by an umbilical chord and draws its nutrition from it as it develops. Movement, and a tiny heartbeat are detectable by a good eye, or glasses, even at this stage. With a bit better lighting of the egg, you can actually clearly see the eye.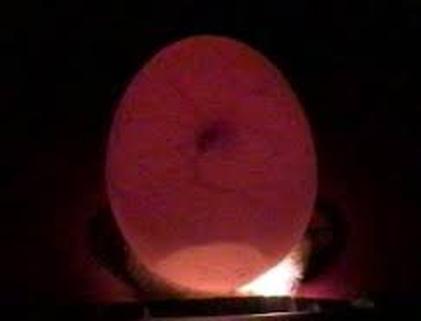 Chicken embryo, day 5 of a total 21 days of incubation. Heart beat and movement is detectable at this stage.
If luck is with us through day 21, we will have a few baby chicks. They will be cross bred of the following varieties: Wellsummer, Black Copper Maran, Cream Legbar, Olive Eggers, Lavendar Orpington, and some common Red Stars and White Leghorn. The first 5 of these breeds lay colorful eggs from dark brown, blue green and cream.
I will candle again, and try to get an actual picture of our own eggs. The one above is off the internet because I couldn't juggle light, egg and camera.
Below are the breeds we purchased eggs for, which will actually be mixed, as they were all together. I will keep you updated as the hatch proceeds. We have 49 egg