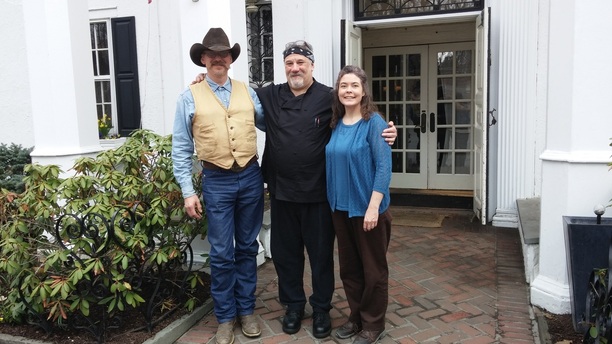 Here we are with Chef Jay Lippin, at
Crabtree's Kittle House Restaurant & Inn
after our final
Herdwick
Lamb delivery of the season on Friday, April 17. While there for business discussions as well, we took the time to enjoy a most delicious lunch. Sure glad we did! Chef Jay surprised us with his totally scrumptious appetizer of our own Herdwick kidney and grassfed beef pies. The pastry....there's no words, absolutely perfectly tender and flaky. I then enjoyed
"The Rachel" Roast Turkey Reuben
with roast free range turkey breast, melted 'tilsit' cheese, sauerkraut, russian dressing, orwasher's famous rye bread, while Ray actually nearly became full on the melt in your mouth
LaFrieda/Kittle Blend Cheeseburger
with aged cheddar, applewood smoked bacon, tom cat pretzel roll.
To top it off, Chef Jay sent out a couple of his own specialties - Bacon Jelly and mustard! Ray was in heaven! And I have to admit,they were VERY good!!
If you haven't already, we highly recommend that you visit Crabtree's Kittle House Restaurant & Inn. They support local family farms by providing you with an array of healthy, naturally produced foods transformed to dillectable art in their kitchen. Try our lamb, while it lasts!!
Thank you for supporting American farmers, Kittle House!
~ Erin