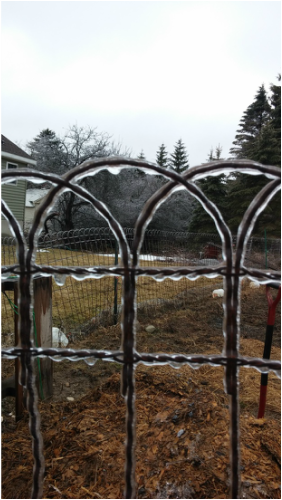 Shearing Day and Helder~Herdwyck Farm began such as many days since November - bleak and cold. No 40's that day. In fact, there was a sheet of ice on everything, except the sheep.
We hire Andy Rice, from Hogget Hill Farm in Vermont to shear our flock. He is a full service professional shearer, with many years experience shearing a variety of sheep, goats and camelids. I can tell you, take care of your shearer, they are few and far between. Andy is clean-practicing bio-security measures, slick and kind to the animals. Everything goes like clockwork, and calmly.
By full service, I mean that the sheep are not just shorn this time of year for the sake of harvesting their wool. They are at the same time being prepped for lambing and to venture out to pasture soon. With lambing about 3 weeks away for most of our ewes - a preliminary "preg check" is done while the ew is off her feet - the sheep are vaccinated at this time so that the lambs will be born with some of the ewe's antibodies being passed to them for a good start. We will booster all the lambs at birth and a month later. The ewes are also wormed at this time, peparing to help reduce parasite load in the pastures from the start. At this time, pregancy hormones begin to awaken any parasites the ewes may have harbored overwinter in their intestinal walls. With a good wormer - whamo! They're done. The feet are trimmed and checked, they are checked for lice as well.
With lambing looming in a few weeks, by shearing now, many issues during lambing can be warded off. For one thing, all important "embellishments" which will communicate status of impending birth are now visible. For example, depending on the breed, ewes will beging to develop an udder anywhere from about 3 weeks to a day before lambing. Ours are about 3 weeks. By monitoring the size of the udder, you can gues within a day or two when a ewe will lamb. Additionally, once the lambs are on the ground, there is no mistaking the business end to get to for nourishment and where to latch on for nursing when all the wool is gone. Sometimes, with full-fleeced ewes, a lamb will mistake a lock of wool for the udder, and use up their energy trying to nurse air. It can cost a weak lamb its life.
In keeping with working with Mother Nature, and our humane management, we breed for lambs to be born in the warmer, natural temps of Spring and readily placed on clean pastures. In this way, our sheep keep their very warm coats for the winter, and lambs are not dropped, wet from a warm world into an icy one. Holistically, it makes more sense as far as labor input (no pun intended) to not have to care for chilled lambs and risks Mom's rejecting them as a result of human intervention. There can always be the exception, and, we have 5 first-time lambers this year. Although, our base ewes as it turned out, all but one had never lambed before we got them. They are pros and all lambed privately, with no intervention, save the one that had lambed before. She's a whole other story. I will note that she expresses next to no Herdwick traits, anyway.
Here's some pics from shearing day. Our fleeces are gorgeous this year. One ewe's who has add fleece issues in past has produced a gorgeous, Herdwick type pale grey fleece this year. Markedly improved. We worked hard in our intensive, rotational pasturing last year, utilizing grasses where our hens fertilzed the year before, and is shows! We have some beautiful blue fleeces this year. Fleeces are available, so if you see any you like, contact me. I will be holdiing a few for Rhinebeck, but the rest will be going for yarn in the next couple weeks. We also have our llama fleeces. Get'em while they're here!