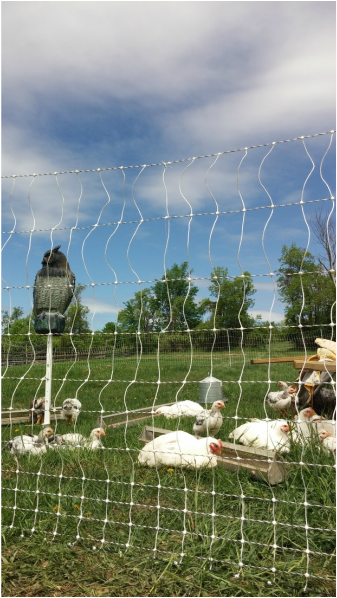 Whew, spring is sprung! Busy day today.
Took the chicks out of the large brooder and cleaned it out carefully and readied it for its next tenants;
gathered eggs;
moved the guinea keets out of their two separate brooders to the large one and set up their bulk feeder and waterer;
gathered eggs;
removed the smaller brooders from the basement and cleaned them up and swept the extra shavings up off the floor. These will be set up in the barn and readied for the next batch of day-old keets due to arrive next week.
next adjusted the poultry netting and moved the broiler cages onto fresh grass, which we do once or twice daily, and then completely reset the netting to surround a new section of pasture for them. In about a week, this "big move" will be repeated. Each day their coops are moved until they've slept on all the grass within the netting. Took a moment to take the shot to the left of our broilers with guard owl enjou

Got the garden tractor going and mowed pathways to put the sheep electronet when we move it tomorrow. We moved them two days ago, enclosing them in three sections. These will be relocated tomorrow with a 4th section added and a divider section. This should last 4 days, we are hoping, before the next move.
Also the dishes, 3 loads of laundry, egg washing and boxing and trip to pick up feed and send out an order at the Post Office.
Last night, our Akbash really put up a fuss about 12:10 am. With the sheep in a new area, secluded from our own view and surrounded by trees and some brush, I was a bit nervous what had the dogs going. I went out to discover the sheep clustered close to the dogs looking toward the pines. I spent about 30 minutes surveying things, walked the fence line and listened. I did find a section of netting lifted up and hanging on a low pine branch, as if something had at least attempted to get under it - I hope didn't make it in. That easily explained the dogs' excessive dis-ease. Thank goodness for the dogs or I would never sleep, especially now with the tiny lambs. More updates on them another time. Night, y'all! ~Erin