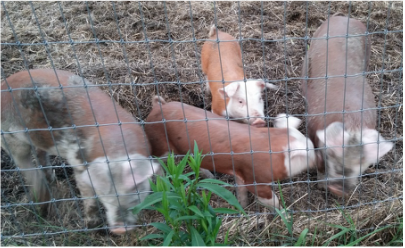 Today, we picked up our second batch of Heritage, Hereford Hogs. We are very pleased with this breed, and have so far fouind them to be extremely intelligent, and have the most personality of any pig I myself have ever raised. Our oldest two walked up to their new water barrel while we were adjusting the niplle drinker on it and promptly drank. They have never used one before. The two newest, pictured here with the first two, are just as smart.
We have learned these pigs like to play games with us, and even appear to laugh at their own stunts. I always talk to them when I am entering their current pen and while I walk to their trough which is under part of their shed. When I head to the barn to begin with, I can see their lazy lumps "sleeping" in the shed. Well, as I appear near the trough, they feign pure surprise, bolt out of the shed in their typical short legged rocking-horse gate, barking with ears flapping as they run in a big circle. They frolic back to the trough looking at me, literally grinning. Goofs! The breeder informs us they are doing excellent if they are enjoying themselves so much.
We are also pleased to announce that all our pigs are now being fed local grains, which by this fall will be GMO-free. We are getting there! The pigs, especially the mulefoots, are thoroughly pleased with their new kibbles.
Order your pastured pork today! Pastured on grass/clover, local grains, fresh water, air and sunshine. No antibiotics, no hormones and no steroids. Hereford hogs are known for there delicious flavored darker meat, lots of bacon in the long body, and most importantly, meat production. They average 30lbs more meat than other, contemporary breeds of the same weight. See our
PORK
page for more information on ordering.