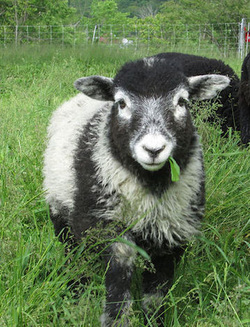 Hi! I'm Haylie, an American bred Herdwick sheep. I am 68.75% Herdwick, here in a baby picture! I've really grown, and this weekend you can come see me and a friend in the Breed Barn, at the
New York State Sheep and Wool Festival,
Dutchess County Fairgrounds, Rhinebeck, NY! Saturday, Oct. 17 from 9:00 to 5:00, and Sunday, October 18, from 10:00 to 5:00!
My owners have some wonderful products from our fleeces. They, and many other wonderful fiber arts related tools, supplies, equipment and books can be found in the booth for The Wren's Nest, in Building 22d, booths 13 & 14. C'mon by! I'll likely give you a sniffle-kiss, if you do!
Below are some of the products, and ideas, you can see at our booth!