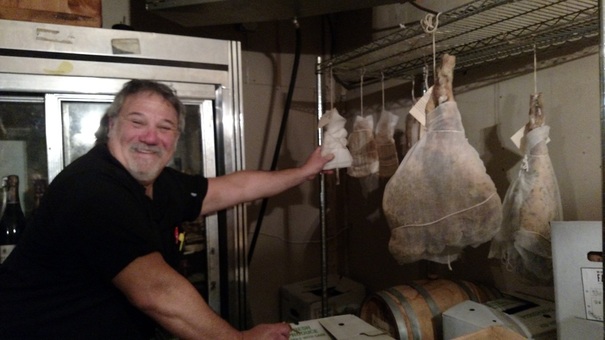 At our last delivery of Guinea Fowl for 2015 to the Crabtree's Kittlehouse Restauarant and Inn, Chef Jay Lippin had some surprises to share. He excitedly, and proudly, led us through the labrinth of an extensive wine cellar to a far reaching corner. There, he showed us some products he's making from our rare Heritage Mulefoot hogs. One leg is curing for a unique Prosciutto, which will be ready sometime in June of this year. All things come to those who wait, and, perfection takes time. He is also curing the cheeks. Nothing goes to waste when Jay purchases our animals!
In the dining area, we discovered some of the barn siding from our old barn has been repurposed for neat plant and nick-nack shelves hung in the windows.
Then, as we decided to have lunch while there, in addition to what we ordered, Chef Jay sent out a delicious teaser of his Mulefoot bacon served on cornbread and topped with Quail eggs. Let's just say I'm already drooling.
Next, he further surprised us with a serving of unbelieveably delicious, devine Mulefoot Pork Roast. This type of hog is so very different than "standard" pork. Red, like beef, the meat is also more marbled. This lends a juiciness and unique flavor unparalleled by anything I've ever tasted. Unlike "conventional" meats containing unhealthy levels of Omega 6's, grass-fed meats contain healthy fats, high in Omega 3's. Rediscover the world of Heritage meats! Visit
http://www.kittlehouse.com/to-save-an-endangered-species-di…
for more information. And, know your Farm-her, know your Food! Our farm is Holistically managed, and our livestock are sustainably and humanely raised, producing the healthiest food for you and Mother Earth. We also raise Hereford Hogs.