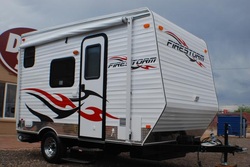 This item is ideal for meeting our transportation and lodging needs when attending the fiber trade-shows where we sell our farm products. The closest show we regularly attend is the NYS Sheep and Wool Festival in Rhinebeck, NY. Over an hour drive, this utility/camper trailer would allow us to make one trip, with one vehicle to take all our inventory to the shows, unload, set up and then be able to get to bed before 10 or 11 pm, like we do now, after a drive home. For shows in MA or NH, we will save by eliminating hotel and meal expenses. And most especially, it is far more family friendly for us.
We are looking into the exact model to meet our needs, but it will be the shortest (12' to 16') and without all the bells and whistles. $9,999 for the really basic model
---
Following is a list of
approximate
weights and cuts for a ½ pig. For items such as chops, the number will depend on how thick you ask them to be cut. You will be able to request how many are put in a package. Double these to estimate a whole pig. If you wish, we can also custom raise your pork to the size you desire. Ask us!
13 lbs Pork chops 1" thick – total of 23 chops

3 lbs Spare Ribs

9 lbs Hamburger/Sausage ground meat, generally in 1lb packages

15lb Fresh Ham – you can easily brine or send for smoking*

8 lb Fresh Bacon slab – brine and slice, or send for smoking*

10 lb Shoulder Roast

4 lb Butt Pork Roast

5 lb Stew/Soup Bones – or for dogs

8 lb Fat – render it for pie crust, bird suet or feed to dogs

Total of about 75 lbs in your freezer. If you consider this, say you like bacon with breakfast every Sunday, with a 1/2 pig, you get about a total of 8 lbs. If you have it packaged in portions of 1 lb., you have about 8 Sunday bacon breakfasts. Consider also, that over the course of a year, how much do you spend on pork products. With this form of purchase, you are doing one-stop shopping for the year, and getting a far better tasting, healthier product.
Cut sheets are now here! Click to download the one you wish to order, half or whole. Complete the form and either email to us or call, and we will get your preferences to the butcher for you. This sheet is where you indicate what and how you want your pork cut (loin roast vs chops), and packaged (2 or 4 chops to a package, etc.). On this sheet is where you must indicate the "additional" items you wish, such as jowls, feet, liver, lard, etc.
We will post a few custom smokehouses for your convenience in getting your bacon, hocks, jowls and hams cured/smoked, and sausage made, if you so desire. You may also do so yourself. There are many books and supplies available. Next year, it is expected our Abattoir will be opening its own USDA smokehouse.