Stay up to date and in touch with us! Sign up for our email list and get our Newsletter, too!
---
Pastured Heritage Pork ... Updated 2/21/18
---
USDA Prime Pork!

Our fresh, pastured pork is available by 1/2 or whole hog, pre-ordered, as well as by the cut, when in stock (see "Buy" the Cut" below). We will occasionally custom raise a hog for a pig roast for your special event. Please contact us at least 3 months prior to your event! Our Abbatoires for hogs are Double L Ranch, an

A

nimal Welfare Approved Facility outside Altamont, NY, and Steiner Processing in Otego, NY.

You save a LOT of money ordering by 1/2 or whole hog, you get a variety of cuts, and it can be cut and packaged as you want it. Also it is not the "ton" of meat you may be afraid of ordering. A 1/2 hog will generally fit in a standard small chest. Read on about our unique breeds of hog that we pasture and supplement with non-GMO feed.

ACCOLADES of our PORK....

"There is no comparison. Unless you've tasted Helder Herydwyck hereford hog pork chop you have no idea how pork chops should taste. I am a believer and can't wait to try the chops on the grill tonight. Nothing beats owned & grown by your local farm-her! Erin and Helder Herdwyck Farm are my favorite." ~ Sean L.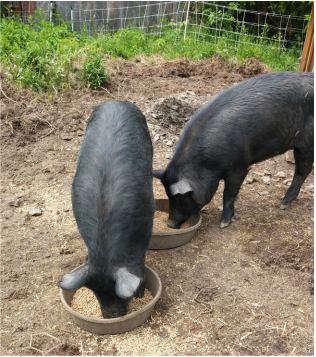 RESERVING A HOG IN ADVANCE COSTS YOU LESS & ALLOWS YOU MORE OPTIONS THAN GETTING IT FROM OUR FREEZER READY-CUT. $150 non-refundable deposit required.

Pricing is subject to change. See "2017 Season", below.
​ ** WE OFFER A VETERAN DISCOUNT **
Our current offerings are Heritage Breeds such as Red Wattle/Berkshire crosses and a mix of Large Black/Berkshire/Gloucestershire Oldspot/Landrace crosses. Both groups of pig do excellently on pasture, forage well and are hardy for the weather in the Northeast US.
What's special about our pork? Our piglets will spend spring through late fall or into winter foraging in wooded areas on the farm, supplemented with local grains. WE DO NOT FEED BAKERY WASTE - EVER! We don't eat sugar and corn-syrup, preservative filled white breads and baked goods ourselves, we certainly would not ruin our wonderful meats with it. Naturally reared pork provides not only the best flavor, but the best nutrition in their meat and fats.
---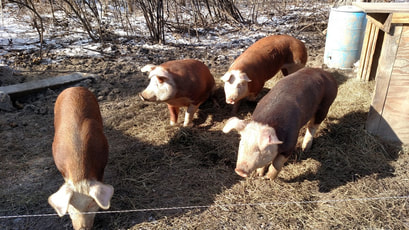 Please NOTE:
Pre-orders for 2018 Season are open:
Your total amount due will depend on the final dressed weight of the hog you order. Mother Nature makes the final determination, but if you want bigger or smaller, we will attempt to accommodate you.
Deposits are non-refundable, however if you must cancel your order, find another customer for your hog and we will credit their order.
Hogs Available:
We are ready to order in piglets to raise especially for you and your family!

NOW TAKING ORDERS FOR Summer roasting hogs and Spring hogs- contact us ASAP.
---
* Cutting, wrapping and smoking are additional. Cryo-vac (vacuum sealed) is additional. A cut-sheet will be provided to you prior to slaughter so you can discuss your order with the butcher. Delivery is available for additional charge.

Sausage and smoking of hams and bacon is additional. You can smoke them yourself, or we can provide you with smokehouses to contact for your use.

How much meat?
A typical slaughter weight is about 250 pounds live, yielding a whole hog of about 180+/- lbs hanging weight. If you just take the prime commercial cuts a whole hog will yield approximately 120 – 130 lbs of meat, and a half hog is typically 65 – 75 lbs of meat. If you take the whole pig, nose to tail, that will give you about 140 lbs which includes great things like the hocks, soup bones, leaf lard (for pie crust), liver, jowls, head, and other things. There are many variables that play into the actual finished weight such as the size of the pig, and how you choose to have the meat processed and packaged. With a 1/2 hog, you can still also get the jowls, bones and leaf lard from your 1/2. The pig is good to eat, and any of our pastured animals, end-to-end, and we greatly encourage using as much of the animal as possible. Please discuss this with the butcher when placing your order using your cut sheet. Below are some books we suggest to help you get the most product from your order, and, the most nutrition from our products.

Cooking:
Heritage, pastured meats need to be cooked a bit differently than store-bought, industrial meats. Cook our meats for a shorter duration, or lower temperature. This will ensure best flavor and juiciness.

HHF PORK BY THE CUT: See our new cuts, just in, below! Vacuum sealed for freshness and long storage. Priced by the pound, as indicated. Please call to place your order and pick up, or come by the farm to make your purchase.
(518) 872-9081 For savings of about 50%, consider purchasing a 1/2 or whole hog, see info above.
---
"BUY" THE CUT -
A pig is good from nose to tail, we offer every possible bit of our USDA Prime Porkl that is edible and healthy for you! When we take a life from our farm, we put it to the best use possible. There are many cuts wasted of animals processed for the grocery store. Stop the waste, buy local, and try new cuts and products!
Fresh Cuts: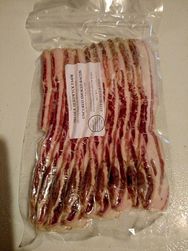 ​Heritage smoked BACON!!!
Low nitrate/nitrite -
​
$11.00 per pound at the Farm
$11.50/lb off Farm

​ Our delicious, low-nitrate and low-nitrite Heritage Hereford bacon has arrived. Because our bacon is better for you, cook it on a lower temp for a bit longer. I flip it often. Aproximately 1 lb packages, actual cost will vary.
---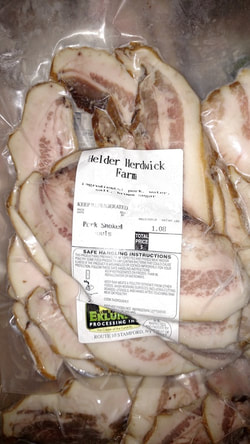 Heritage Mulefoot Jowl Bacon

Use like regular bacon, cut up it's yummy in your baked beans, soups - anywhere you use bacon.

$11.50 per pound.
---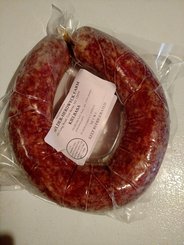 Heritage Fresh Kielbasa

​$11.00/lb
---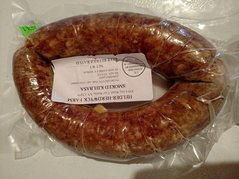 Heritage Mulefoot Smoked Kielbasa

​$11.95 per pound
---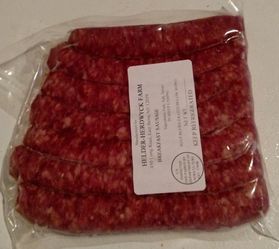 Heritage Breakfast Sausage

$11.00 per pound


---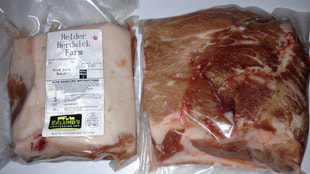 ​
Heritage Loin Roasts, Bone in - $10.95
Boneless - $11.95 per pound.


---
---
---
Heritage Hereford Smoked Hocks

Many sizes to choose from

$7.95 per pound.
---

---

Back Fat - replace your vegetable oils, Pam and crisco toxicities with all natural, pastured back fat lard. High in Omega 3s, vitamins and flavor with none of the carcinogens, huge carbon footprints and packaging waste of processed oils. Enjoy delicious, nutritious cracklings after rendering. Better than grocery store, because animals from industrial farms who are fed chemicals and medications, store it in their fat.

$5.00 per pound

---

---


Heritage Mulefoot Irish Bacon
$14.50/lb
​


---

ON SALE! Heritage Hereford Fresh Hams (a delicious pork roast!)
25% OFF
Was $10.95 per pound
Now $8.20/lb

4.46 lb - was $44.37 NOW $36.57
5.05 lb - $50.24 NOW $41.40



---

---

---

Heritage Mulefoot Rib Roasts
$10.95/lb

3.33 lb - $36.36
3.34 lb - $38.16

---

---

Baby Back Ribs
SOLD OUT
$11.95 per pound

---

---

Heritage Mulefoot Pork Tenderloin

$18.95 per pound

---

---

Heritage Hereford or Mulefoot Country OR Spare Ribs:

Great on the grill, get ready for dinner "out" - on your deck that is.

$10.95 per pound

---

---
---
---
NO SUCH THING AS NITRATE/NITRITE FREE!!
These chemicals exist naturally in celery powder and sea salt, used in curing.
Low nitrate/nitrite at least means no addional chemicals are added for curing.
---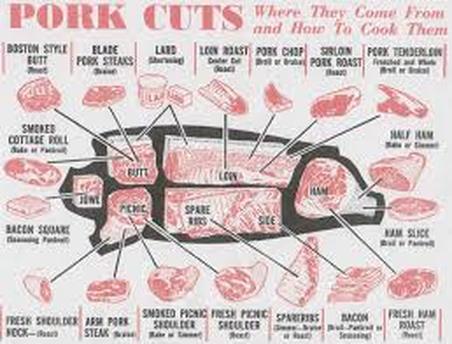 ---
---
Grocery Store Alternative.....what would you eat?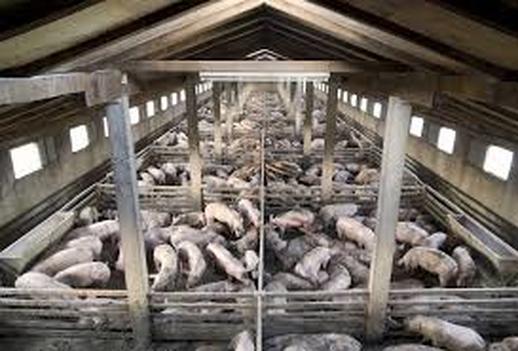 This is commercially raised pork. Indoors their entire short life, as they are supplemented with hormones for faster growth and sale turnaround time for better "profits" financially, with great expense to the environment, the hogs and your health. Due to such confinement, antibiotics are routinely fed for disease prevention, and many additional chemicals are used for sterilization of pens and equipment between batches of hogs. Prepackaged foods can start with the pen.
---