Sign up for our Email list and Newsletter!
Guinea fowl for feast or farm protection..... Updated 3/2/18
---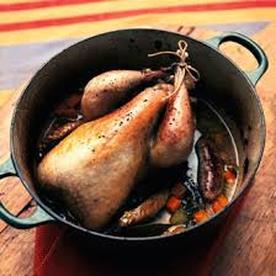 These birds are either generally free ranged for tick control, amusement, or farm protection. The latter being due to their unique, rather raucus alarm call upon the arrival of hawks, other predators, or strangers.
On the Table:
Pasturing is not a simple task as, unlike chickens and other domesticated poultry, guinea fowl are not domesticated. They can be trained with much attention, and will tolerate close proximity within limits. It takes a special system to raise these birds on grass where they can grow well, be healthy and facilitate capture for processing. But the proof is in the flavor, and they are soooo delicious! A darker meat, they are in the "game" category of meats.
Fresh frozen guinea - $7.00 per pound
, average 3 lbs.
Please NOTE:
Pre-orders for meat birds for 2018 Season are being accepted through April 15, 2018
.
SAVE .50 cents/lb with preorders.
Your total amount due will depend on the final dressed weight of the birds you order. Mother Nature makes the final determination, but if you want bigger or smaller, we will attempt to accommodate you.
Due to the variables in nature and individuals, final numbers cannot be guaranteed as there can occasionally be fatalities during raising, therefore: Deposits are non-refundable, however if you must cancel your order, find another customer for your birds and we will credit their order.
Click the buttons below to see our price list or to pre-order your poultry.
---
---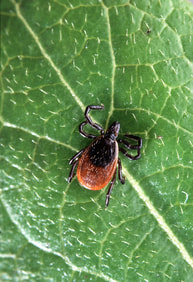 Guinea Fowl for tick eradication and guard work: Place your orders now!
Live Guinea Fowl for reducing the tick population on your property. They work well in gardens, too, as they do not dust themselves as heavily as hens, and so won't uproot your plants. Available day old, or brooded and ready to go. Pre-orders required, and 50% non-refundable deposit required to reserve your order.

NOTE: We do NOT ship. The birds must be picked up at our farm.

NOTE: YOUR KEETS ARE NOT RESERVED WITHOUT YOUR DEPOSIT!!!

Order up to brooder opening, or while availalble, whichever comes first.

Pricing as follows: Order via phone or email, do not use form above, which is for meats.

First batch due in April- SOLD OUT
Second batch due May- Call now!
Additional batches to follow - TBD

Prices based on 2017 Keet market - may be subject to change without notice.
Day old:
6 for $34.50 or $5.75 each up to 9 keets
10 for $55.00 or $5.50 each up to 19
20 for $105.00 or $5.25 each up to 29
30 for $150.00, or $5.00 each
50 for $235.00
100 for $445.00
​

​Brooded (3 weeks old): maximum 30 brooded
6 for $45.00, or $7.50 each
10 for $72.50
20 for $140.00
30 for $187.50​
---
We need to get a video of our birds grazing! Here are some at another farm, but you can see how they are eating almost constantly. Because they work in a group, they pretty much "sweep" your area of ticks and other bugs.