Sign up for our Email list and Newsletter!
---
Where to find us........... Updated 3/19/18
---
Fox Creek Market ~
---
Here at the Farm ~
Products can be purchased on-farm, at 450 Long Road, East Berne. April to November, we keep a cooler stocked with eggs for you to help yourself. To purchase meats and other products, please call ahead so we can have these products ready for you. We have installed door bells in the cooler, and at the door. If we are available, we will assist you if you ring us.

PLEASE RESPECT THAT THE FARM IS OUR HOME, drive slowly, and respect our family time - particularly dinner time! ​Thank you.

We are working on acquiring a shed for a farm store, so If you would like to help us reach this goal of bringing more of our products to you, please contact us. 518-505-9081. NO DOGS, PLEASE.

PLEASE NOTE: This is a WORKING farm so we may not be available to assist you when you arrive, particularly during pasturing season. Please call ahead to order meats, if you know you need to speak with us about your order, or have questions. Thank you!
---
Open Annually for the "Discover The Hilltowns: Farms and Artisans' Tour"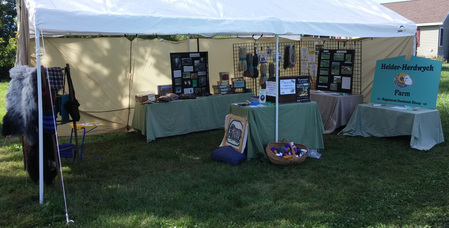 Each year we are open at least one day for this area self-driven tour of farms, businesses, and artist studios in the Villages of Berne, Knox, Westerlo and Rensselaerville.
Come enjoy the fresh hilltown air combined with local fresh foods from your local farms, enjoy a meal at a local restaurant and see some wonderful views and artwork. More info at
www.hilltowns.org

Saturday and Sunday, September 15 & 16, 2018
---
---
Farm Stand!
This Spring, we are hoping to get a Farm Store building put up. We will have more products available, and store hours, to more readily help bring our delicious and nutritious products to you. In addition to sales of our meats, eggs and fiber related items, the building will be used for educational opportunities as well - fiber arts workshops, and talks or clinics on agricultural topics nnd food security skills. Please contact us if you wish to help in some way. Thank you!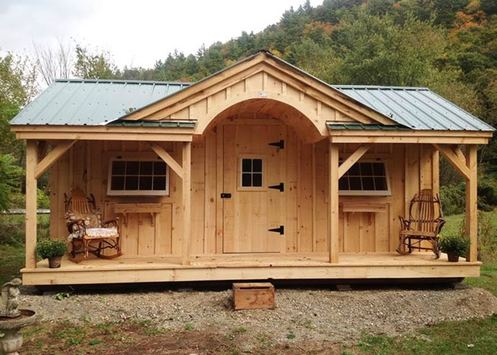 ---
CSA Delivery Locations, weekly, year round ~
Our "Egg Mobile" delivers farm fresh eggs, meats and other items of interest, to two main drop offs in downtown Albany and one in Glenmont every Tuesday. See our CSA info HERE.


We provide weekly delivery by preorder, year round, every
Tuesday
to:
625 Broadway/Orange St., at the CDTA parking lot - Albany from 12:15 to 1:00 pm.
Albany Medical College, New Scotland Ave., Albany, between 1:15 and 1:45 PM, rear entrance.
Glenmont Storage, Rte. 9W, Glenmont, NY​​
---
Voorheesville Farmer's Market ~
The Voorheesville Farmer's Market will opened June 20, 2018, and runs Wednesdays 3:30 - 6:30 pm, through October 3rd (estimated). Located at the First United Methodist Church, 68 Maple Avenue, Voorheesville, NY, 12186. We have an assortment of fresh, Pastured Eggs, Pork cuts, Herdwick Lamb, Whole or Half Chickens, Rabbits and more! Feel free to call ahead to order, and stop by the market to pick up, too!
Wednesdays 2018:
June 20
June 27
July 4 closed
July 11
July 18
July 25
August 1
August 8
August 15 - We will NOT be at the market this day
August 22
August 29
September 5
September 12
September 19
September 26
October 3
​October 10 - Last Day
---
November to May of 2018 - Voorheesville Pick-Ups
Once the Voorheesville Farmer's Market has closed for the season, we offer the opportunity to pre-order our products for pickup at the same location, the first Wednesday of each month, November to May, through the winter. This way you can still enjoy our delicious meats, eggs, and a variety of other farm products at the convenience of local pickup.
Here's how it works:
Subscribe by contacting us and requesting to be added to the "Voorheesville Pickup List."
You will receive an email pior to the first Wednesday of each month reminding you to place your orders by Tuesday morning for pickup that Wednesday.
Place your order via email or phone. You have the option to pre-pay by credit card or Paypal, or pay by cash or check at pickup.
Once all orders are recieved, a confirmation with pick up time will be provided.
Arrive at the designated time to pay for and/or pick up your order.
Due to winter weather, we occasionally reschedule delivery for another day
NOTE: if no orders are received, we will NOT be there. At this time we dot not bring anything extra for sale.
You
must subscribe to participate
, so please
CONTACT us
to request being added to our Pickup list.
---
New York State Sheep and Wool Festival, Rhinebeck NY
October 20 & 21, 2018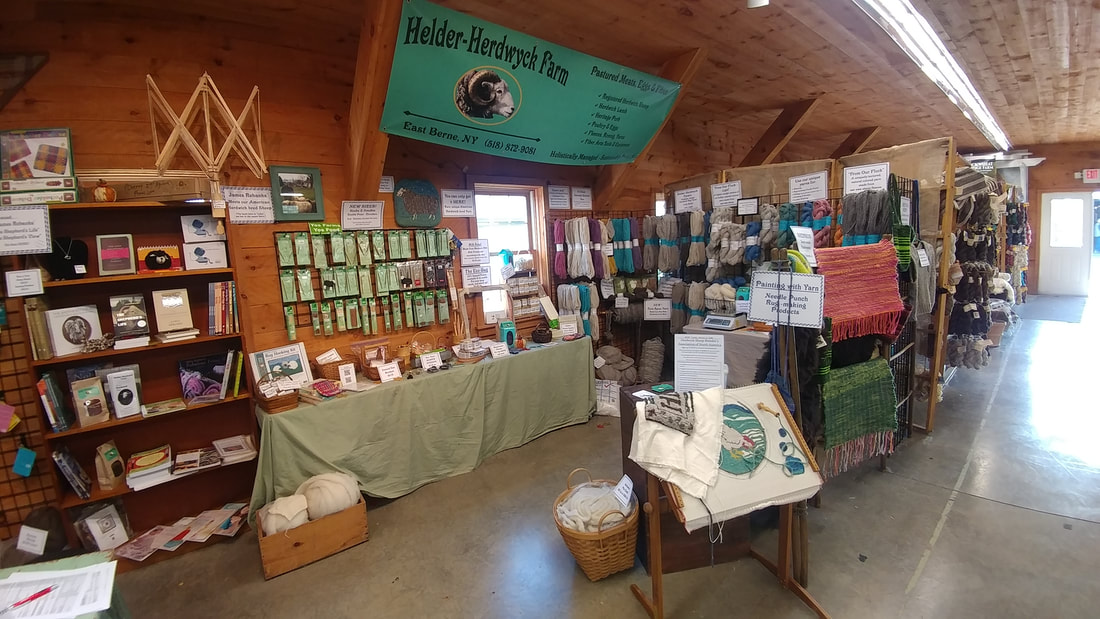 Come see us at the 2018 New York State Sheep and Wool Festival! - Our 6th year!
Saturday, October 20th, 9 - 5 and
Sunday,
October 21st, 9 - 4.
Location: Dutchess County Fairgrounds in Rhinebeck, NY.
Building 22U, Booth #11
Come join us for our 6th year at the festival!
This festival offers so much, including animals, fibers from raw to finished yarn, decorative items, tools, supplies, books, equipment and more. Things for hubby and things for the kids, including clowns, hay mazes, games and more. Fun for the whole family!
We will be bringing our trademark yarn of American Herdwick bred wool - "From Our Flock" in Bulky and Light, spun exclusively from fleeces from our own flock.
Additionally, we have our American Herdwick bred roving, pin-draft AND core-spun! Specially ordered for your braided roving rug project, hand spinning, felting, weaving and more!
Learn about our own, exclusive breeding program, as we work toward reaching 100% Herdwick genetics and how this breed is important to the future of American Agriculture. And the best - meet our sheep!
So, we all look forward to seeing you. Come check out our booth and see the wonderful, unique items we have to offer, and, if there's something you need, we'd be happy to try to locate and order it for you! See you there!
​ For more information on the show, visit
http://www.sheepandwool.com
~ Erin
---
---