The Award-winning American Herdwick... Updated 1/18/19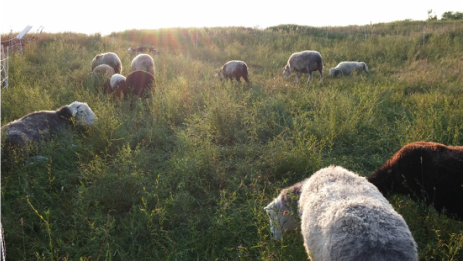 Thanks to efforts in the early part of this century, there is something wonderful looming on the horizon of American Agriculture! These little, smiling sheep...
In September of 2012, our flock of 4 ewes (62.5% Herdwick) and 2 rams (75%) arrived at our farm in the Helderberg Mountains of Albany County, New York. It was the second flock in the U.S., and the first flock east of the Rockies. When we purchased our 100 acre farm property which dates to 1729, we had been researching livestock that could serve multiple
purposes such as ~
easy to handle, low-maintenance and manageable in size
able to sustain themselves and thrive primarily on pasture and hay
suited for providing nutritious meat to feed our family and customers
suited for providing fiber for yarns for weaving, needle-punch and rug-braiding
having inherent hardiness and resistance to disease and parasites
Suitable for pasture/farmland reclamation through regenerative grazing practices such as our planned intensive rotational grazing and sylvo~pasturing
The Herdwick sheep were a fit for us and our land, with the added benefit of a unique, striking appearance making them interesting to look at and having a very durable, versatile fleece and unique and delicious meat for our business ventures. They have an excellent rate of conversion of forage to meat, able to grow readily on little and even what would be considered "poor" forage by today's standard flocks. They are very intelligent and docile overall, have a sweet smile and some we find to have wonderful personalities.
---
---
Our Farm, Helder~Herdwyck...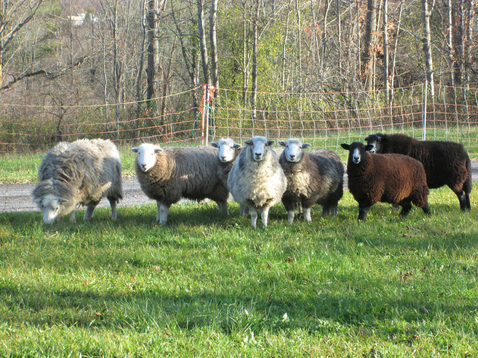 The name of our farm is derived from the word "Helderberg", which is Dutch for "clear mountain" and refers to the location of our farm, and combining "herdvyck", the old Norse word for "sheep pasture," with "Herdwick," the breed name. Hence "Helder~Herdwyck." Our Herdwick cross sheep are pastured in the clear mountains of the Helderbergs.
In 2008, semen was imported from Herdwick rams into the United States by Linda Stimson, to begin a breeding program using
artificial insemination
, bringing the breed to the country for the first time. Herdwick Sheep in the US!
Our breeding program began in the fall of 2012, with the use of "Crook," a two year old Herdwick cross ram, or "Tup", as sire. This breeding resulted in 7 lambs of 68.75% Herdwick genetics, showing true Herdwick traits in fleece and unique color transformation to white face and legs. We anticipate using A.I. in our flock to work toward a "pure" strain of American Herdwick.
We will refer to our sheep as "Herdwick" throughout our website for simplicity, but
by no means at any time do we intend to imply we have pure-bred Herdwick sheep
- at least we don't yet. There are no purebred Herdwick sheep in the Americas, actually. This is our project of the next few years.
Our flock in 2013, seen here and at top, on their lush green pastures in the Helderberg Mountains, left to right are: Hyacinthe, Hershey, Harlequin, Adelaide, Haylie, Afleecia and Alesia. We are now up to 11 ewes and one ram ~ the second largest flock containing mostly 62.75% Herdwick genetics or greater, and the only flock entirely of such.
We strive to raise our livestock naturally, as Mother Earth intended and designed them for. We feed no hormones or routine antibiotics. In 2015, we achieved an all-grass fed lamb flock, grazing from the end of April through December, and feeding only hay in winter. For the breeding ewes and ram, we supplemented just prior to breeding, using only non-GMO organic grain from Cold Spring Organic. Outside of this one time per year, our entire flock is grass-fed. Raising humanely, we will use available medical treatments should injury or illness occur, and for preventative measures, we vaccinate against common preventable disease for ultimate flock health. WE WILL NEVER MARKET AN ANIMAL THAT WE HAVE TREATED.
See our products page for fleeces, roving and our one-of-a-kind 3-ply rug yarns, as well as other products available from the farm. For tools, equipment, books, patterns and other supplies related to the fiber arts, click
HERE
to go to The Wren's Nest, Equipment, Supplies and Workshops website.
---
---
First official showing of registered American Herdwick bred sheep in the U.S. ~
(Photos courtesy of James Morgan ~ hover for captions)
​ On Sunday, October 22, 2017 our Herdwick bred sheep were shown at the New York State Sheep and Wool Festival, Dutchess County Fairgrounds, Rhinebeck, NY. A yearling ram, two ram lambs, two ewe lambs and two yearling ewes where shown in the Natural Colored Long Wool show.​
---
Breeding Up...a Long Process..........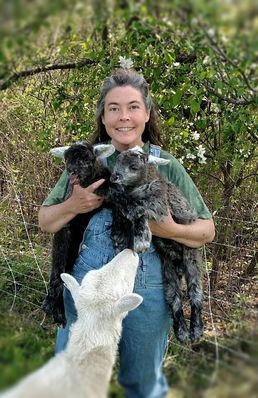 ​ On May 29, 2016, our first lambs from an Artificial Insemination breeding here at the farm were born. The next step in our vision.
​ Born to our "Hershey", little "Hadley" (L) was born first, and our wonderful luck of the draw, her twin "Hahnsom" (R), was born with some effort and assistance. The twins' percentage of Herdwick genetics is 84%.
However, the genetics used for this breeding were from the last four straws of semen originally imported. Therefore, the twins' Papa is their grandpa, uncle, brother and otherwise. All Herdwick bred sheep in the U.S. currently are bred from the same two rams. This fall, 2017, new genetics were collected in England, and we are awaiting import for use next breeding season. Prayers for our Project!
It is very exciting to have a higher percentage ram for use with our flock. This will be "Hahnsom's" second season as flock sire. One of his sons, "Eindride" had his first season this fall with a select few of our ewes.
We are looking forward to another year of gorgeous lambs.
---
---
Britain's Herdwick Breed Standards we are working toward....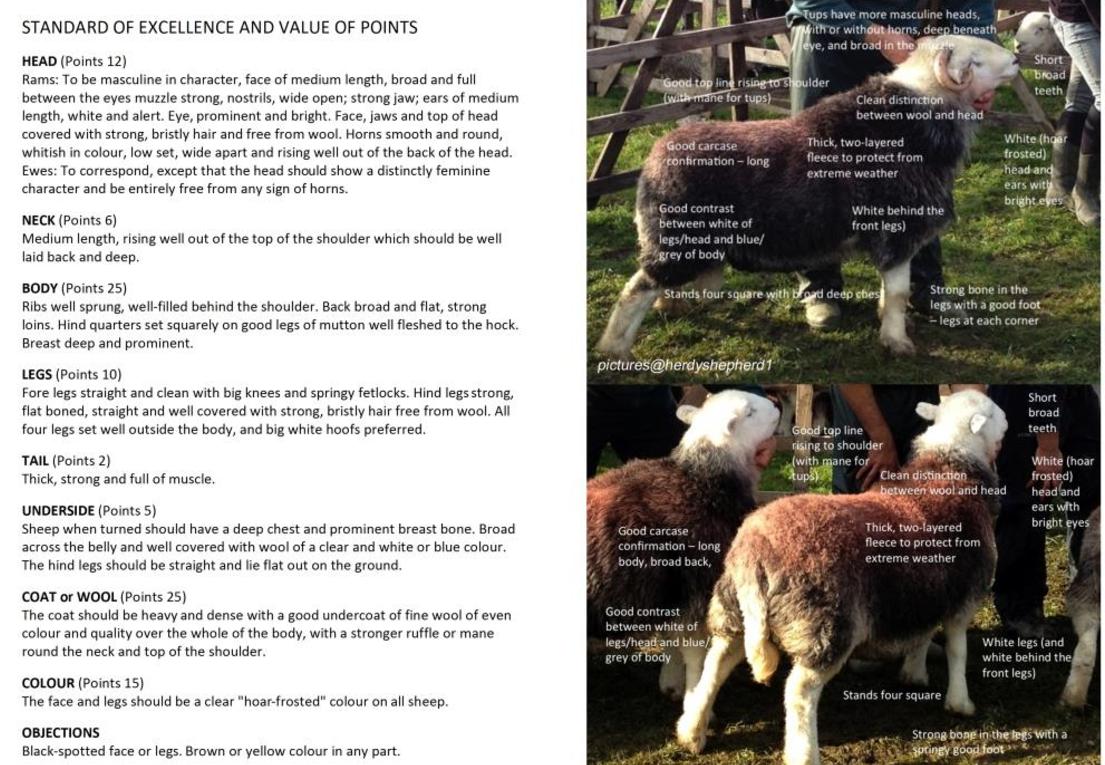 ​
Meet the Flock... more soon - camera shopping (mouse-over photos for info.)
Interested in Breeding Stock?
We have three goals on our farm with our sheep. One is to breed toward the Herdwick bloodline. The second, to use our sheep for improving our soils and increasing species diversity our farm, and the third, to feed our family and yours. We need many sheep and their mouths to achieve our improvement goals. For these reasons, until 2017 we have retained all ewe lambs for future breeding program goals, and market culled ewes, rams and wethers to fund our program. Because we seek a true Herdwick, we have refrained from selling animals of lesser quality for breeding. This is mainly because ALL Herdwick bred sheep in the U.S. today are derived from the same two rams, and care must be taken to ensure we breed away from defects while homing in on our Herdwick breed traits.
However, breeding stock became available in 2017. We have contacted those on our preliminary waiting list, and are working with those who have responded. Please call or email and we will place you on the list for updates as more become available. If you would like to do so, please contact us at
helderherdwyck@gmail.com
or call 518-872-9081. We look forward to hearing from you!
To see the sheep we have for sale now, visit our
Sheep For Sale
page.
​