Sign up for our Email list and Newsletter!
---
The Incredible Herdwick Sheep.... Updated 2/4/18
Basic Facts.....

The true origin of the breed is not known. They are found mainly in the

Lake District

fells of

Cumbria

in

North West England

. A recent study strongly indicates the Herdwick are descended from flocks of Viking settlers in Northern Europe.

They may well have been introduced by Norse-Irish settlers in the 10th and 11th centuries, or they may be derived from animals introduced by Neolithic or Bronze Age herdsmen. The name "Herdwick" is derived from the

Old Norse

herdvyck, meaning sheep pasture, and is recorded in documents dating back to the 12th century.

Herdwick sheep are a sturdy, dual-purpose breed, producing uniquely flavoured

lamb and mutton

and a coarse grey wool.
Herdwicks are one of the most hardy of all the British hill sheep breeds, withstanding the cold and relentless rain of the Lake District at heights upwards of 3,000 feet. They are prized for their robust health, their ability to survive on little forage, and their tendency to be territorial, or "hefted", from the words "to heaf", which means they remain on their own piece of hillside, or "fell." Individual sheep almost always return to their birthplace.

Average bodyweight of mature ewe:35-45kg ( 77 to 99 lbs)
Average bodyweight of mature ram:66-75kg (145 to 165 lbs)

Meat
Lamb carcass weight (from six months of age):14-18kg ( 31 to 40 lbs)

Wool Characteristics
Average fleece weight:1.5-2kg ( 3.3 to 4.4 lbs)
Staple length average:15-20cm ( 5.9 to 7.87 inches)
Bradford count:
Main uses:tweeds, carpets, fiber art, felting, etc.

Average Prolificacy
Shearling ewes (high hill):75-80%
Mature ewes (high hill):80-90%
Mature ewes (lowland):
125-150%

The History.....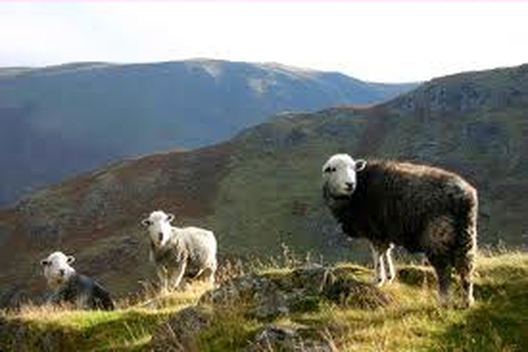 For centuries, the husbandry of Herdwick sheep in the UK has been a large factor in shaping the culture, and terrain of the Lake District. Topograhically, grazing by sheep continues to keep the hillsides of fells largely treeless, and the ubiquitous dry stone walls of the valleys were built to protect grazing land and to confine livestock.
About 95% of all Herdwicks live within 14 miles of Coniston, Cumbria, and this makes the breed particularly vulnerable to outbreaks of disease. The outbreak of foot-and-mouth disease in 2001 led to the destruction of many flocks, and to fears for the survival both of the breed and of the typical Lakeland sheep farming industry. Of the estimated 100,000 Herdwick sheep present before the outbreak, a full 25% were lost. The destruction of entire flocks ~ some with bloodlines centuries old ~ meant that the shepherds were forces to undergo the process of again heafing their new sheep to the hills. Normally, ewes teach this behaviour to their lambs, but with nowmore ewes left acquainted with a particular heaf the behavior had to be taught all over again to new ewes, inevitably involving much rounding up of flocks.
Heafing is so strong in these sheep, that individuals sold from one farm and taken to another will disappear in the fells, only to be found miles away on a journey back to their original fell.

---
The Fiber...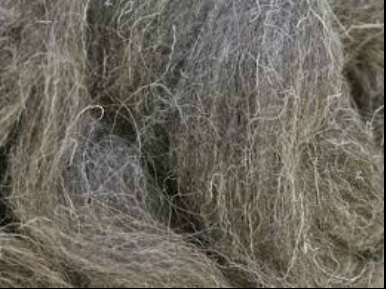 The wool of the Herdwick has unique qualities relating to durability. Consisting of 4 types of fiber – wool, guard hair, kemp and heterotypic hair. Ranging in staple length from 6 to 10", these combined fibers form an insulating and protective barrier against the elements, shedding water, and is how these sheep survive high in the fells in winter. Shepherds claim Herdwicks to be the first of the fell breeds to dry after a storm. Lambs are born black, turning to a dark brown at one year, with faces and legs turning pure white. They begin to turn grey as they age. In England, the fiber is primarily used in the production of outer-wear, carpets, bags and home insulation.

---
Beatrix Potter and the Herdwick Sheep....
Beatrix Potter

, the internationally known children's story writer and illustrator, and creator of the character Peter Rabbit, was a keen supporter of the Herdwick breed of sheep, raising and showing her own flock.

She bought Troutbeck Park Farm in the 1920s and built up a flock of over 1,000 Herdwick sheep, which she did in part because they were indigenous to the Lakeland fells with a history going back hundreds of years. Between 1930 and 1938 she won a number of prizes for Herdwick ewes at shows across Cumbria. She also acted as president of the breed association for a time.

At the time of her death in 1943 she owned farms in the Lake District totaling more than 4,000 acres. These and her Herdwick flocks were endowed to the National Trust with conditions attached to the continuation of the Herdwick breed in the fells.
Herdwicks at home.... various images of the Lake District sheep. (more info below photos)
An interesting sheep counting system....
Yan Tan Tethera
is a sheep-counting rhyme/system traditionally used by
shepherds
in
Northern England
and earlier in some other parts of England and the British Isles. Until the Industrial Revolution, the use of traditional number systems was common among shepherds, especially in the dales of the
Lake District
. The
Yan Tan Tethera
system was also used for counting stitches in knitting. The words derive from a
Brythonic Celtic
language.
Though most of these number systems fell out of use by 1910, some are still in use.
The Future.......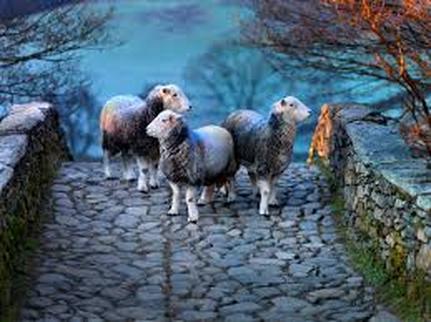 Something wonderful is looming on the horizon of American Agriculture! These little, smiling sheep... In 2008, semen was imported from Herdwick rams into the United States to begin a breeding program using
artificial insemination
, bringing the breed to the country for the first time.
In September of 2012, our flock of 4 ewes (62.5% Herdwick) and 2 rams (75%) arrived at our farm in the Helderberg Mountains of Albany County, New York. It was the second flock in the U.S., and the first flock east of the Rockies. When we purchased our 100 acre farm property which dates to 1729, we had been researching livestock that could serve multiple purposes such as ~
Being easy to handle, low-maintenance and manageable in size
Able to sustain themselves and thrive primarily on pasture and hay
Suited for providing nutritious meat to feed our family and customers
Suited for providing fiber for yarns for weaving, needle-punch and rug-braiding
Have inherent hardiness and resistance to disease and parasites
Suitable for pasture/farmland reclamation through grazing practices such as planned intensive rotational grazing and sylvo~pasturing
The Herdwick sheep were a fit for us, with the added benefit of a unique, striking appearance making them interesting to look at and having a very durable and versatile fleece and unique and delicious meat for our business ventures. They are very intelligent and docile overall, have a sweet smile and some we find to have wonderful personalities.
---
Click HERE for information about our American bred Herdwick sheep!